Foundation Repair & Basement Waterproofing in Duluth, Superior & Eau Claire Areas
Customer Review
By James Way
Park Falls, WI

"Nice Work! More then happy with the work done- Thanks."

By Patrick H.
Spooner, WI

"My wife and I would like to thank all involved at Foundation Supportworks,as we can finally get a good nights sleep not worrying..."

By Robert W.
Balsam Lake, WI

By Curt
Solon SPrings, WI

"When the job was being completed I wish that I had been updated more frequently and thoroughly. Good report at the end when we..."

By Mike P.
Gordon, WI

By Kathy B.
Cirlcle Pines, MN

By Alicja P.
Plymouth, MN

By Robert O.
Superior, WI

"will get ahold of you in the spring to reconnect the air conditioning"

By Jim E.
Superior, WI

By Tim M.
Two Harbors, MN

"Tyson, Matt and the crew were all first class!"
Residential, Commercial, & Municipal
Foundation Repair in MN and WI
Foundation Supportworks Solutions provides services for failing foundations across Minnesota and Wisconsin.
Our service area includes Duluth, Eau Claire, Superior, nearby Superior, Saint Cloud, Eau Claire, Brainerd, Marshfield, Menomonie, Chippewa Falls and the surrounding areas.
Our Contractor Services
Residential Foundation Repair: We offer permanent repair options for residential foundations that are experiencing bowing, buckling walls; foundation settlement damage, crawl space structural issues, and more.
Commercial Foundations: Our solutions provide structural stability in both new construction and existing commercial structures. Products include push pier systems, helical anchors & tiebacks, helical piles, and more.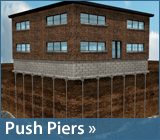 Stabilizes retrofit foundations from vertical settlement. Opportunity to lift the structure back to level.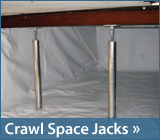 A supplemental support system for crawl space applications. It effectively supports sagging beams and floor joists.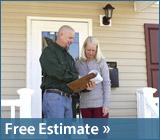 We provide free evaluations and estimates for all of our foundation repair services!
PolyLevel uses high-density polyurethane to stabilize and level concrete floors and foundations.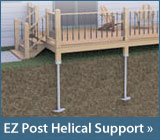 The EZ-Posts provide an ideal solution to long-term stabilization and can be installed year-round.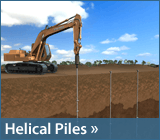 For a new construction with a deep foundation to permanently stabilize sinking or settling foundations.
Professional Solutions In MN and WI
Walls Caving In?


Bowing or buckling walls are serious issues that should be addressed right away.

Sinking Floors?


Structural problems such as settling columns and fatigued floor joints are common in a crawl space.

Cracked Foundation?


Wall cracks, sticking windows, and tilting chimneys are all signs of foundation damage.

By delivering on a promise of great quality and service, Foundation Supportworks Solutions has earned and maintained a position at the very top of the industry.
Since every home is different; it takes a personal touch to effectively solve unique problems. At Foundation Supportworks Solutions, that personal touch is something you can count on every day.
From the time our office takes your call and sets an appointment to the day our certified representative meets with you to evaluate your property, our goal is to provide exemplary service and a custom solution to address the needs of your home or business.
We pride ourselves on providing free, no-obligation cost quotes in MN and WI for homeowners within our service area. We provide foundation repair services in Duluth, Eau Claire, Superior, Eau Claire, Saint Cloud, Superior, Chippewa Falls, Brainerd, Marshfield, Menomonie, Grand Rapids, Forest Lake, Hibbing, Cloquet, Rice Lake, Sauk Rapids, Sartell, and the surrounding areas in Minnesota and Wisconsin. If you would like to meet with a representative to design an effective solution for your home, construction, or place of business, call or e-mail us today!
Looking for a price? Get a no cost, no obligation free estimate.